Scaling New Heights – Manufacturing Challenges for Zero Carbon Aerospace
24 March 2022 @ 2:00 pm

-

3:00 pm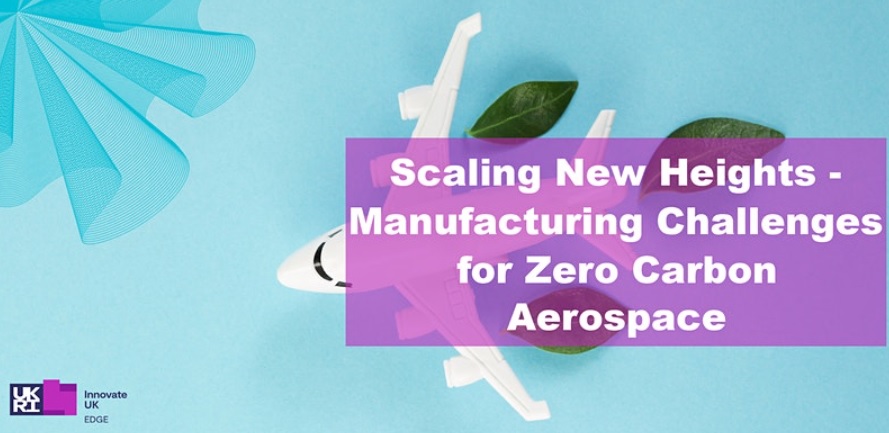 This event gives an exciting opportunity to learn about new opportunities for UK manufacturing in de-carbonising the aerospace sector. The FlyZero team will unpack the opportunities for zero-carbon aircraft and airports, and the implications and challenges that need to be solved. The goal is a thriving sustainable aviation sector in the UK, creating jobs and capability.
The East of England has been at the heart of the global aviation sector for over 100 years and has played a critical role in the technological developments in this space. The Smart Manufacturing Alliance will highlight the range of innovation within the region in this sector and share live experience of business striving to innovate in the current landscape.
Innovate UK EDGE is a key part of the UK innovation agency's investment in the innovative businesses that drive economic growth. It complements Innovate UK project funding with intensive, bespoke, specialist-led support for ambitious businesses. EDGE can support businesses to map out their carbon-reduction action plan, advise on certification schemes and identify funding streams to help them achieve sustainability across all areas of the business including their supply chains.
FlyZero – Led by the Aerospace Technology Institute and backed by the UK Government, FlyZero began in early 2021 as an intensive research project investigating zero-carbon emission commercial flight. This independent study has brought together experts from across the UK to assess the designchallenges, manufacturing demands, operational requirements, and market opportunity of potential zero-carbon emission aircraft concepts. FlyZero has concluded that green liquid hydrogen is the most viable zero-carbon emission fuel with the potential to scale to larger aircraft utilising fuel cell, gas turbine and hybrid systems. This has guided the focus, conclusions and recommendations of the project. The outputs f rom FlyZero will help shape the future of global aviation with the intention of gearing up the UK to stand at the forefront of sustainable flight in design, manufacture, technology and skills for years to come.
Smart Manufacturing Alliance
The Smart Manufacturing Alliance is network for manufacturers, working to promote their work and ensure they are more competitive and productive across Cambridgeshire and Peterborough.
Members have access to a range of benefits and events that will allow them to build a network of like-minded manufacturers. Supported by our team's support members will also be able to gain connections to industry experts across a range of areas including technology development, finance, education, and academia.
About the presenters:
Nigel Town, Industrial Supply Chain Architect, Fly Zero – Aerospace Technology Institute
Nigel is internationally recognised for delivering transformational technologies. He has a proven capability for forging collaborations across adjacent industries to create winning teams. Nigel has a demonstrable track record for exploiting new manufacturing technologies and materials. While employed by Rolls-Royce he built a team to validate, mature, and industrialise the first commercial application of oxide ceramic matrix composites (CMC's). He established external supply chain relationships up to Board level in 3M.
Matt Blakeley, Network Development Manager, Smart Manufacturing Alliance
With 20 years' experience of working with SME's, Matt works with the network of manufacturing businesses across Cambridgeshire and Peterborough to uncover innovation, promote growth and celebrate the regions expertise. The Alliance is building a great resource for business across the region to access innovation support and build a network of collaboration and solution building. Matt will also share some live examples of SME's within the region exploring their own Innovation journey.
Fernando Centeno, Leader Innovation & Growth Specialist – Sustainability, Innovate UK EDGE
Fernando has extensive background in innovation and sustainability. Fernando is a highly experienced entrepreneur, consultant, coach and mentor with the track record of bringing innovation to market in the clean-tech and circular economy sectors. A senior innovation and growth specialist, Fernando has advised a pool of start-ups and SMEs on strategy, marketing, equity finance, grants, product development and sustainability, reshaping companies into innovative and disruptive organisations.
Julie Pauley, Ecosystem Lead, Innovate UK EDGE
Julie has worked with hundreds of SMEs to access the help they need across several funded business support programmes.